3.2. XML$BJ8=q$r3JG<$9$kI=(J XML$BJ8=q$r3JG<$9$k$?$a$NI=$H$7$F(JElement, Attribute, Text, Path$B$N(J4$B8D$rDj5A$9$k!%(J $B$^$?J8=qCf$KB8:_$9$k3FC18l$N(Jtf-idf$BCM$r3JG<$9$k$?$a$NI=(JToken$B$rDj5A$9$k!%(J

Element (documentID, nodeID, pathID, start, end)
    $B%-!<$O(J (documentID, nodeID)
Attribute (documentID, nodeID, pathID, start, end, value)
    $B%-!<$O(J (documentID, nodeID)
Text (documentID, nodeID, pathID, start, end, value)
    $B%-!<$O(J (documentID, nodeID)
Path (pathID, pathexp)
    $B%-!<$O(J (pathID)
Token (documentID, nodeID, token, tfidf)
    $B%-!<$O(J (documentID, nodeID, token)

Element, Attribute, Text, Path$B$O$=$l$>$lMWAG%N!<%I!$B0@-%N!<%I!$%F%-%9%H%N!<%I!$(J XML$BJ8=q$K8=$l$kA4$F$N7PO)$r3JG<$9$kI=$G$"$k!%(J Token$B$O3FItJ,J8=qCf$KEP>l$9$k3FC18l$N(Jtf-idf$BCM$r3JG<$9$k$?$a$NI=$G$"$k!%(J tf-idf$BCM$OItJ,J8=q$N=g0LIU$1$KMxMQ$5$l$k!%(J $BI=$N3FB0@-$K$D$$$F@bL@$9$k!%(J

documentID  XML$BJ8=q$r<1JL$9$k$?$a$N(JID$B!%(J
nodeID      $B%N!<%I$r0l0U$K<1JL$9$k$?$a$KIUM?$7$?DL$7HV9f!%(J
pathID      $B7PO)$r<1JL$9$k$?$a$N(JID$B!%(J
start       $B3F%N!<%I$N3+;O%?%0$N%P%$%H0LCV!%(J
end         $B3F%N!<%I$N=*N;%?%0$N%P%$%H0LCV!%(J
value       Attribute$B$G$OB0@-CM$r!$(JText$B$G$OMWAGFb$NJ8;zNs$r$=$l$>$l3JG<$9$k!%(J
pathexp     $Bl$9$kC18l$r%9%F%_%s%0$7$F3JG<$9$k!%(J
tfidf       $BItJ,J8=qFb$KEP>l$9$k3FC18l$N(Jtf-idf$BCM$r3JG<$9$k!%(J

$B<!$K(JXML$BJ8=q$N3JG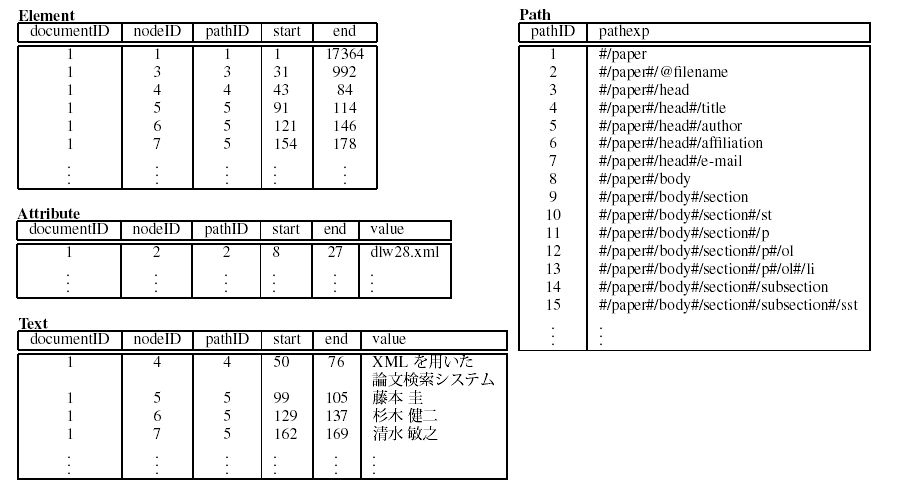 $B?^#4(J XML$BJ8=q$N3JG
4. $BMxMQ $B$3$N@a$G$OO@J88!:w%7%9%F%`(JKikori$B$NMxMQ $BO@J88!:w%7%9%F%`(JKikori$B$G$O8!:w8l$rF~NO$H$7!$8!:w$r9T$&$3$H$,$G$-$k!%(J $B=>Mh$N8!:w%(%s%8%s$HF1$8$h$&$KD>46E*$KMxMQ$9$k$3$H$,2DG=$G$"$k!%(J $B%G!<%?%Y!<%9$+$i8!:w8l$H4XO"$N9b$$O@J8$r=g0LIU$1$7$F $B8!:w7k2L$H$7$FO!$@a!$CJMnC10L$H$7$F$$$k!%(J $B8!:w7k2L$NItJ,J8=q$OB0$9$kO@J8C10L$G$^$H$a$FI=<($5$l$k!%(J $B8!:w7k2L$NI=<(Nc$r?^(J6$B$K<($9!%(J $B%9%3%"$K4X78$J$/O@J8$KB0$9$kA4$F$N>O$d@a$rJ8=q=P8==g$GI=<($7$F$*$j!$(J $BO@J8A4BN$NN.$l$,GD0.$G$-$k$h$&$K$J$C$F$$$k!%(J $BCJMn$O%9%3%"$N9b$$$b$N$N$_$rI=<($9$k$h$&$K$7$F$$$k!%(J $B%9%3%"$N9b$$ItJ,J8=q$[$IBg$-$/L\N)$DJ8;z$GI=<($7$F$*$j!$(J $B4XO"EY$N9b$$ItJ,J8=q$,$R$HL\$GJ,$+$k$h$&$K$J$C$F$$$k!%(J

$BO@J8$d3FItJ,J8=q$N%?%$%H%k$O%"%s%+!<$H$J$C$F$$$k!%(J $B3F%"%s%+!<$r%/%j%C%/$9$k$HO@J8A4BN$,I=<($5$l$k!%(J $BItJ,J8=q$N%"%s%+!<$r%/%j%C%/$7$?>l9g!$(J $BItJ,J8=qA4BN$r%O%$%i%$%H$7$FI=<($9$k$h$&$K$7$F$*$j!$(J $BItJ,J8=q$NA08e$NN.$l$r8+$J$,$i(J $B3:Ev$9$kItJ,J8=q$rFI$`$3$H$,$G$-$k$h$&$K$J$C$F$$$k!%(J $BO@J8Cf$KB8:_$9$k8!:w8l$H%^%C%A$9$k8l$r%O%$%i%$%H$7$FI=<($7$F$*$j!$(J $B8!:w8l$H4XO"$N9b$$ItJ,$r$o$+$j$d$9$/$7$F$$$k!%(J $BO@J8$NI=<(Nc$r?^(J7$B$K<($9!%(J


$B?^#5(J $B8!:w8l$+$i<+F0@8@.$7$?(JSQL$BJ8$NNc(J

5. $B$*$o$j$K(J $BK\9F$G$OO@J88!:w%7%9%F%`(JKikori$B$NFCD'$H!$(J $B3F9=@.MWAG$K$D$$$F@bL@$7$?!%(J Kikori$B$OO@J8$NItJ,J8=q$r8!:wC10L$H$7$F$$$k$H$$$&FCD'$r;}$D!%(J

$B:#8e$N2]Bj$K$O<!$N$h$&$J$b$N$,5s$2$i$l$k!%(J $B:#2sDs0F$7$?%7%9%F%`$G$OItJ,J8=q$r8!:wBP>]$H$7$F$$$k$,!$(J $B0l$D$NJ8=q$OJ#?t$NItJ,J8=q$+$i9=@.$5$l$F$$$k$?$a!$(J $B8!:wBP>]$,KDBg$H$J$k!%(J $BBgNL$NItJ,J8=q$r9bB.$K8!:w$G$-$k$h$&$J%"%k%4%j%:%`$,I,MW$H$J$k!%(J

$B3X=QO@J8$N9=B$2=$r9T$&:]$KGX7J$d4XO"8&5f!$pJs$rIUM?$9$k$3$H$K$h$j!$9bEY$J8!:wMW5a$rK~$?$9$3$HL\I8$H$7$F$$$k!%(J $B0UL#>pJs$rIUM?$9$k $BMxMQ $B;29MJ88%(J
[1] Masatoshi Yoshikawa, Toshiyuki Amagasa, Takeyuki Shimura, and Shunsuke Uemura. XRel: A Path-Base Approach to Storage and Retrieval of XML Documents Using Relational Database. In ACM Transactions on Internet Technology, Vol. 1, No. 1, pp.110-141 (2001).

[2] Takeyuki Shimura, Masatoshi Yoshikawa, and Shunsuke Uemura. Storage and Retrieval of XML Documents using Object-Relational Databases. In Proc. of the 10th International Conference on Database and Expert Systems Applications (DEXA'99), volume 1677 of Lecture Notes in Comuputer Science, pp. 206-217, Springer-Verlag (1999).

[3] Google Scholar. http://scholar.google.com/

[4] CiteSeer. http://citeseer.ist.psu.edu/

[5] VLDB. http://www.informatik.uni-trier.de/~ley/db/conf/vldb/

[6] pdftohtml http://pdftohtml.sourceforge.net/

[7]$B?yLZ(J $B7rFs(J, $B>>86(J $BLPpJs$H%F%-%9%H>pJs$rMQ$$$?3X=QO@J8$N9=B$2=(J. $BJ?@.(J17$BG/EYEE5$4X783X2qEl3$;YItO"9gBg2q(J, (2005).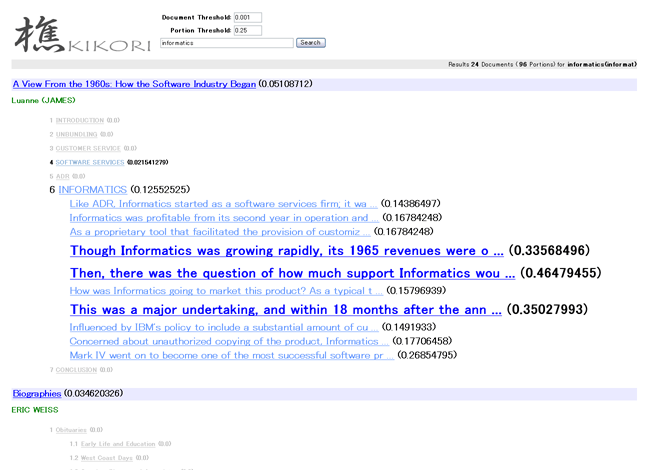 $B?^#6(J $B8!:w7k2L0lMwI=<($NNc(J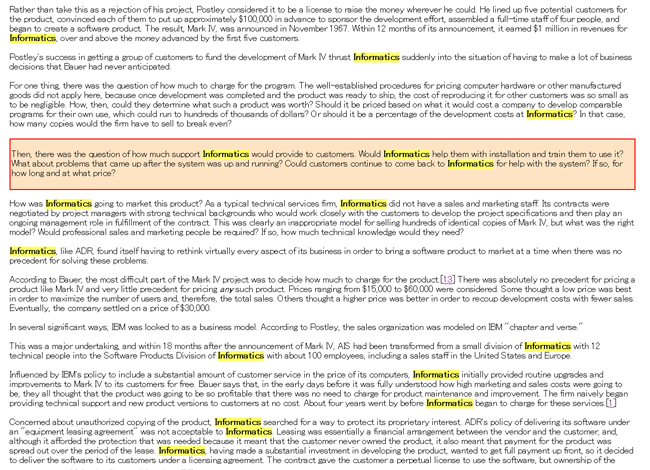 $B?^#7(J $BO@J8I=<($NNc(J